You are here
Back to top
How to Write a Sentence: And How to Read One (Hardcover)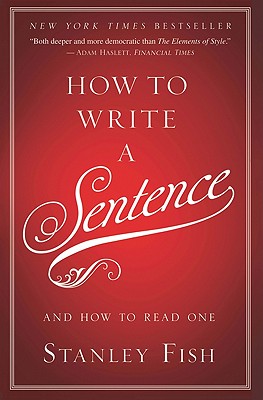 $19.99
Email or call for price.
Description
---
New York Times Bestseller
"Both deeper and more democratic than The Elements of Style" – Adam Haslett, Financial Times
"A guided tour through some of the most beautiful, arresting sentences in the English language." – Slate
"Like a long periodic sentence, this book rumbles along, gathers steam, shifts gears, and packs a wallop."
 —Roy Blount Jr.
In this entertaining and erudite New York Times bestseller, beloved professor Stanley Fish offers both sentence craft and sentence pleasure. Drawing on a wide range of  great writers, from Philip Roth to Antonin Scalia to Jane Austen, How to Write a Sentence is much more than a writing manual—it is a spirited love letter to the written word, and a key to understanding how great writing works.
About the Author
---
Stanley Fish is a professor of law at Florida International University in Miami, and dean emeritus of the College of Liberal Arts and Sciences at the University of Illinois in Chicago. He has also taught at the University of California at Berkeley, Johns Hopkins University, and Duke University. He is the author of fourteen books, most recently Fugitive in Flight and Save the World on Your Own Time. He lives in Andes, New York, and New York City.
Praise For…
---
"Both deeper and more democratic than The Elements of Style."
— Financial Times

"A guided tour through some of the most beautiful, arresting sentences in the English language."
— Slate

"[Fish] shares his connoisseurship of the elegant sentence."
— The New Yorker

"Stanley Fish just might be America's most famous professor."
— BookPage

"How to Write a Sentence is a compendium of syntactic gems—light reading for geeks."
— New York magazine

"How to Write a Sentence isn't merely a prescriptive guide to the craft of writing but a rich and layered exploration of language as an evolving cultural organism. It belongs not on the shelf of your home library but in your brain's most deep-seated amphibian sensemaking underbelly."
— Maria Popova, Brain Pickings

"[Fish's] approach is genially experiential—a lifelong reader's engagement whose amatory enthusiasm is an attempt to overthrow Strunk & White's infamous insistences on grammar by rote."
— New York Observer

"In this small feast of a book Stanley Fish displays his love of the English sentence. His connoisseurship is broad and deep, his examples are often breathtaking, and his analyses of how the masterpieces achieve their effects are acute and compelling."
— New Republic

"A sentence is, in John Donne's words, 'a little world made cunningly,' writes Fish. He'll teach you the art."
— People

"This splendid little volume describes how the shape of a sentence controls its meaning."
— Boston Globe

"Like a long periodic sentence, this book rumbles along, gathers steam, shifts gears, and packs a wallop."
— Roy Blount Jr.

"Language lovers will flock to this homage to great writing."
— Booklist

"Fish is a personable and insightful guide with wide-ranging erudition and a lack of pretension."
— National Post

"For both aspiring writer and eager reader, Fish's insights into sentence construction and care are instructional, even inspirational."
— The Huffington Post

"If you love language you'll find something interesting, if not fascinating, in [How to Write a Sentence]."
— CBSNews.com

"[A] slender but potent volume. Fish, a distinguished law professor and literary theorist, is the anti-Strunk & White."
— The Globe and Mail

"You'd get your money's worth from the quotations alone…if you give this book the attention it so clearly deserves, you will be well rewarded."
— Washington Times

"The fun comes from the examples cited throughout: John Updike, Jane Austen…all are cited throughout."
— Washington Post

"How to Write a Sentence is the first step on the journey to the Promised Land of good writing."
— Saudi Gazette

"How to Write a Sentence is a must read for aspiring writers and anyone who wants to deepen their appreciation of literature. If extraordinary sentences are like sports plays, Fish is the Vin Scully of great writing."
— Gerald Graff and Cathy Birkenstein, authors of "They Say/I Say"

"Coming up with all-or-nothing arguments is simply what Fish does; and, in a sense, one of his most important contributions to the study of literature is that temperament…Whether people like Fish or not, though, they tend to find him fascinating."
— The New Yorker