You are here
Back to top
Attitudes of Gratitude: How to Give and Receive Joy Every Day of Your Life (Paperback)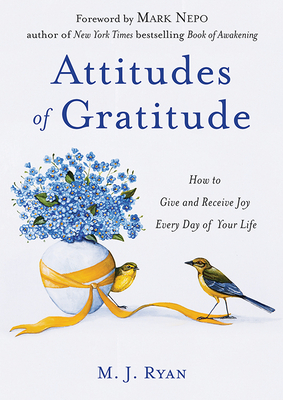 $15.95

Usually Ships in 1-5 Days
Description
---
Gratitude is a simple, profound practice that can change your life. Taking the time to notice and reflect upon the good things restores us to the natural place where we notice what's right instead of wrong, opens our hearts, and creates happiness.
In a series of brief, evocative essays, M. J. Ryan teaches us how to unlock the fullness of life through the simple joy of living from a grateful heart. Ryan writes, "Gratitude births only positive feelings--love, compassion, joy, and hope. As we focus on what we are thankful for, fear, anger, and bitterness simply melt away, seemingly without effort." She illuminates the many gifts that gratitude bestows upon us and offers a number of ways to practice it.
Gratitude can be a powerful agent for change. Research has confirmed its many emotional and physical benefits. This book will encourage you to begin, commit to, and celebrate gratitude so you can experience more joy in life. Replaces ISBN 9781573244114
About the Author
---
M.J. Ryan is an inspirational speaker and human development expoert, and author of several bestselling books including This Year I Will…, The Happiness Makeover: How to Teach Yourself to Be Happy and Enjoy Every Day and Attitudes of Gratitude. She lives in the San Francisco Bay area with her family.
Mark Nepo
 is a poet and philosopher who has taught in the fields of poetry and spirituality for forty years. A New York Times #1 bestselling author, he has published twenty-two books and recorded fourteen audio projects. Recent work includes:
 The Book of Soul
(2020) recently honored by
Spirituality & Practice
as one of the Best Spiritual Books of 2020,
Drinking from the River of Light
(2019), a Nautilus Book Award Winner;
More Together Than Alone
(2018) cited by
Spirituality & Practice
as one of the Best Spiritual Books of 2018; and
Things That Join the Sea and the Sky
(2017), a Nautilus Book Award Winner,
The One Life We're Given
(2017),
The Way Under the Way
(2016),
Inside the Miracle
(2015),
The Endless Practice
(2014),
Reduced to Joy
 (2013), 
Seven Thousand Ways to Listen
, which won the 2012 Books for a Better Life Award, 
Staying Awake 
(2012), 
Holding Nothing Back
(2012), 
As Far As the Heart Can See
 (2011), and
 Surviving Has Made Me Crazy 
(2007), as well as many audio books including
 The Book of Awakening, Finding Inner Courage,
and 
As Far As the Heart Can See
 (2011). As a cancer survivor, Mark devotes his writing and teaching to the journey of inner transformation and the life of relationship. Mark was given a Life-Achievement Award by AgeNation in 2015; in 2016 he was named by
Watkins: Mind Body Spirit
as one of the 100 Most Spiritually Influential Living People, and was also chosen as one of OWN's 
SuperSoul
100, a group of inspired leaders using their gifts and voices to elevate humanity. In 2014 Mark was part of  Oprah Winfrey's
The Life You Want Tour
, and has appeared several times on her
Super Soul Sunday
program on OWN TV. He has also been interviewed by Robin Roberts on
Good Morning America
about his 
New York Times
 bestseller 
The Book of Awakening
. Mark is a regular columnist for
Spirituality & Health Magazine
. 
The Exquisite Risk 
was cited by 
Spirituality & Practice
 as one of the Best Spiritual Books of 2005, calling it "one of the best books we've ever read on what it takes to live an authentic life." Mark's collected essays appear in 
Unlearning Back to God: Essays on Inwardness
. Other books of poetry include 
Suite for the Living
 (2004),
 Inhabiting Wonder
 (2004),
 Acre of Light
 (1994), 
Fire Without Witness 
(1988), and 
God, the Maker of the Bed, and the Painter
 (1988). His work has been translated into more than twenty languages. In leading spiritual retreats, in working with healing and medical communities, and in his teaching as a poet, Mark's work is widely accessible and used by many. He continues to offer readings, lectures, and retreats. Please visit Mark at: Live.MarkNepo.com, MarkNepo.com, ThreeIntentions.com or WMESpeakers.com.  (wmespeakers.com/speaker/mark-nepo)
Praise For…
---
"I'm thankful to Mary Jane Ryan because her candid and story-filled book reminds me to return to my heart-the home of gratitude- and consequently, enhances my connection with all that is wonderful and wise around and within me." --Sue Patton Thoele, bestselling author of Woman's Book of Courage and Courage to be Yourself
— Reviews

"Exquisitely reconnects us to the wonder and satisfaction which can be found in our daily lives....A delightful book for anyone who wants to focus on the joy and satisfaction in their everyday life." --Judy Ford, author of Wonderful Ways to Love a Child
— Reviews

"...an inspirational treasure. A gift for the self or for those who might need a warm and gentle nudge to adjust their attitude." --T.W. © Copyright AudioFile 2003, Portland, Maine
— Reviews