You are here
Back to top
American Bee: The National Spelling Bee and the Culture of Word Nerds (Hardcover)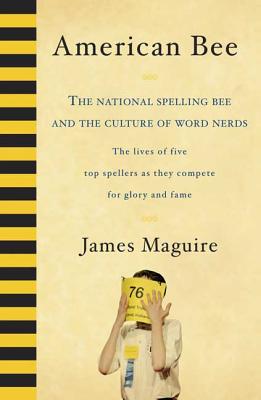 $24.95
Email or call for price.
Description
---
What the bestselling Word Freak did for Scrabble, this riveting narrative now does for the National Spelling Bee. Here is a captivating slice of Americana - part sporting event, part absorbing human drama, and part celebration of the magic of words.

Every spring in the nation's capital, after a starting pool of 10 million kids narrows to 250 finalists, America's top young spellers face off in a nail-biting contest. So electric is the drama that millions of viewers tune in to watch ESPN's live telecast

But this national obsession is much more than a sporting story - and this first-ever narrative nonfiction book about the National Spelling Bee immerses the reader in unique subculture, portraying the endearing fraternity of brilliant, eccentric young word nerds who vie for a gold trophy, a hefty check, and a glorious moment of national fame.

Author James Maguire, who like the contestants is an inveterate word nut, captures the agony and glory of this singularly American event. He profiles the top five spellers across the country, exploring their hopes and dreams - and strategies for winning - as they prepare for their moment in the spotlight. American Bee takes readers behind the scenes at the National Bee, providing a narrative thrill ride as the tension mounts round by round.
About the Author
---
JAMES MAGUIRE has written on a broad array of topics, from pop culture to television and human-interest stories. He is the author of the cultural biography, Impresario: The Life and Times of Ed Sullivan, and his work appeared in Wired and on the About network. On his better days, he can spell words like rijstaffel and boeotian without using spell check. He divides his time between Baltimore and New York City.
Praise For…
---
"The ability to spell under pressure on public occasions is not typically considered a necessary skill, but for young spellers longing to win the National Spelling Bee, it is not only necessary but a source of pride and pleasure. From the nail-biting denouement of the 2004 Bee, Maguire (Impresario: The Life and Times of Ed Sullivan) moves on to brief sketches of some past winners and then takes an informative and wryly humorous look at the English language itself and the evolution of the American spelling bee from Puritan pastime to major media event. The heart of the story, however, is the 2005 Bee and five of its top contenders. The Bee itself, with its electrifying finale, is graphically depicted, with the contenders and their families rendered fully human by Maguire's vivid prose and gift for characterization. Much to his credit, and despite obvious admiration for his subjects, Maguire does not fail to consider the less-than-positive possibilities of placing so much pressure on adolescents, even when the adolescents are placing this pressure on themselves. This unique glimpse at the meeting place of intellectual achievement and competitive spirit, a place where at least a share of the American dream is available to all, regardless of race, ethnicity, religion, or economic status, belongs in every public library." —M.C. Duhig, Carnegie Lib. of Pittsburgh, Library Journal